So do not fear, for I am with you; do not be dismayed, for I am your God. I will strengthen you and help you; I will uphold you with my righteous right hand." -Isaiah 41:10

God does speak to believers, he wants to do that since the beginning of time. In the Old Testament he did that through the Prophets and dreams and visions and miracles. In the new Testament he did it through Jesus Christ The Son became in the flesh. From the beginning of the Book of Acts until this day he does this through the person of the Holy Spirit.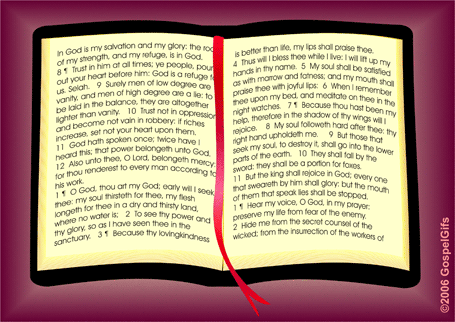 Passage of the year
28/08/2012
The greastest Commandment of all
'You must love the Lord your God with all your heart, with all your heart, with all your soul, and with all your mind. This is the
greatest and the first commandment. The second resembles it:
You must love your neighbour as yourself.
On these two commandments hang the whole Law, and the prophets too.'( Matthew -22:37-40)
"In dwelling, be close to the land. In meditation, go deep in the heart. In dealing with others, be gentle and kind. In speech, be true. In ruling, be just. In daily life, be competent. In action, be aware of the time and the season."
- Lao Tzu

Commentary:

I often find myself obsessing on things which don't really matter. This passage, taken from "Tao Te Ching," reminds me that the basic principles of life can and should be simple.